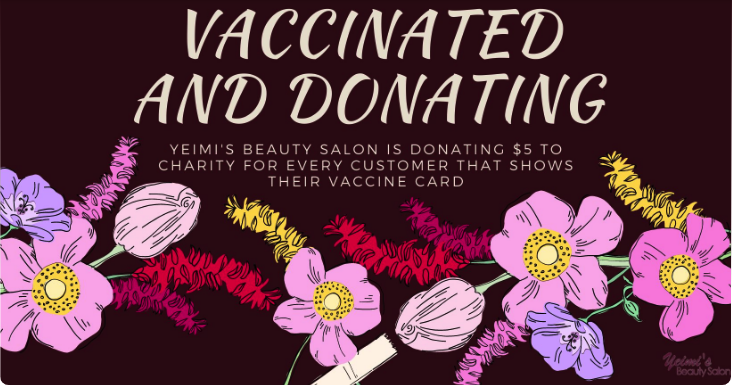 Have you gotten vaccinated yet? Yeimi's Beauty Salon is hosting a vaccinated and donating event! During the month of May, Yeimi's Beauty Salon will donate $5 to a select charity for every customer that shows their vaccine card and receives a service.
How it works:
- Book an appointment at Yeimi's Beauty Salon for the month of May
- Show your stylist your vaccine card indicating you are fully vaccinated after your hair appointment
- Select one of the following charities that you would like for Yeimi's Beauty Salon to donate $5 to.
- Cook County Hospital
- Ann & Robert H. Lurie Children's Hospital of Chicago
- Mercy Home for Boys and Girls
Terms:
This opportunity is only available for the month of May. Customer must be able to prove that they are fully vaccinated with their vaccine card. This means that the customer must show that they have received both doses of Pfizer or Moderna or one dose of Johnson and Johnson.